Before we proceed further, let's have an idea what whole grain is? Any grain is mainly sub-categorized into two groups – whole grain and refined grain. Whole grain preserves all three parts called: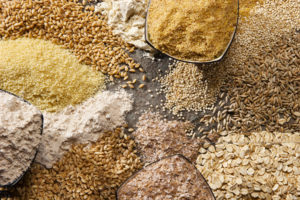 Bran: Outer shell of grain which is packed with fiber, antioxidants and numerous minerals.
Endosperm: After that comes this second or middle layer which generally contains carbs.
Germ: Innermost layer provides plenty of vitamins, protein and plant compounds.
Whereas, refined flours are mostly stripped off germ and bran, leaving only the endosperm to achieve finest texture, color and extra life of flour. Once you develop the habit of consuming whole grain in your dietary, you will find them full of nutrients, nice texture and most importantly the flavor which circulate energy in your body.
Americans health and human services department had issued a dietary guideline in 2005 to include at least three servings of whole grain a day. (Source: Everyday Health.com)
Adding more whole grain over refined flour in your life is a smart choice indeed. It not only fill you up with vitamins and fibers but also satisfy your taste buds without any guilt. Through this blog I intend to take you on a culinary journey with lot more health benefits, enjoying more delicacies to binge on.
Cast a look why one should switch to whole grain flour instead of refined flour while having pastas, breads, buns and tortillas etc.
More fibers and nutrients: Being a part of this journey from beginning you must be acquainted with the higher nutrition value of whole grain. They are particularly high in vitamin B, zinc, iron, magnesium, proteins and antioxidants and fibers while refined flours are deprived of them.
Weight loss: if you are desperate to shed some extra pounds, sticking to whole grain diet is a right decision. Whole grain indulgence is very much useful in losing weight owing to high fibers which make you feel full and consequently prevent overeating.
Reducing the risk of multiple disease: Incorporating WHOLE GRAIN into your diet keeps you healthy for a long. Whole grain may help to decrease the risk of following diseases:
Heart risk and stroke: observational studies have proven that eating whole grain regularly reduces the risk of heart disease and stroke, which is one of the leading cause of deaths worldwide. A review of 10 studies found that three, 1-ounce (28 gram) serving of whole grain daily may lower heart disease by 22%. Find the blog to help lowering the risk of heart ailments with whole grain flour on our website greenfuturemill.com .
Type2 diabetes: Intake of whole grain flour (at least 2 servings a day) than refined flour proves a great help in preventing type diabetes.
Rectify digestive disorders like constipation because a rich amount of fibers are present in whole grain which are otherwise removed from refined flour.
Pacifying chronic inflammation: Inflammation can be the root cause of many chronic diseases. Fibers in whole grains like brown rice, oatmeal etc.
I think, the above reasons are good enough to encourage you to make the switch, only thing required here is "willingness to change". To evolve this habit in your daily dietary in an easier and happier way, Greenfuture private limited has taken up the front by introducing its magical table top household flour mills with the pedestal of 12"x12" in numerous beautiful models. These domestic atta chakkis have become an essential gadget in your kitchen to accompany you in serving health, freshness and hygiene without any extra effort or tiring you. These plug and play grinding machines are completely user friendly with unprecedented life and value for money. These atta chakkis use unique grinding process through CERAMIC CORUNDUM, especially designed to maintain the high nutrition value.
Greenfuture domestic flour mills provide you the opportunity to experiment with different grains like, wheat, black gram, corn, millet, barley, buckwheat, rice etc. and spices/pulses with the least quantity you wish to. Now defining the texture or fineness of milling ingredient is possible by moving the lever from 1 to 9. So no more worries to involve the word 'healthy' in your life. Go ahead…..for any assistance regarding this we are just a click (www.greenfuturemill.com) or a call (9810558695) away.
Don't focus on how much you eat, focus on what you eat!!!!!