Turmeric is known to be the King of spices owing to multiple benefits that it provides. Turmeric is a spice that has many purposes, be it due to its medicinal properties, as a colour representing knowledge and learning in Hindu mythology, as its use as a natural dye for fabric industry, be its use as a cosmetic and as an essential ingredient for cooking across the globe. Generally it comes in orange and yellow colour, a member of Ginger Family, fresh turmeric is a tuberous root that has brown skin and fluorescent orange flesh inside. It is getting lots of attention because of the active ingredients it stores in it, having many scientifically proven health benefits. However, when we procure turmeric powder from market these benefits may be completely lost due to adulteration. Adulteration of spices and addition of unnatural colour is not unusual. Turmeric powder has been found to be adulterated with lead chromate, a substance banned as a food additive. Manufacturers use lead chromate to enhance the colour of spice which leads to cognitive defects. People are unknowingly consuming adulterated spices that could cause major health issues. Food safety checks may detect only a fraction of adulteration in turmeric being traded worldwide. Adulterated turmeric may also be poisonous and act as a neurotoxin when ingested by humans. To prevent these hazardous chemicals intakes Hawos grain grinder facilitates to grind turmeric kernels to powder form conveniently. Hawos domestic flour mills not only grind all kinds of grain but also helps to grind all moisture and oil free spices. Dry turmeric fingers broken into small pieces can be grinded easily in these atta chakki. This way one can get the utmost freshness in the spice to consume with all its healthy properties. Turmeric is an essential spice that many people consume regularly in India to give curries a spectacular yellow colour and for many other purposes. If you think it as a spice only, well it's time to expand your horizons, let's see why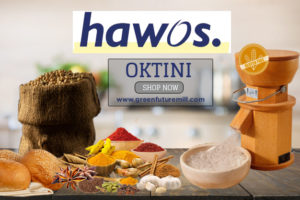 Turmeric with its main ingredient called curcumin is used to prevent and treat cancer, helps in heart diseases, Alzheimer. It may also be helpful to improve symptoms of depression and arthritis. It's a potent anti-inflammatory and antioxidant and is beneficial in treating symptoms of stomach ulcers too.
Widely used in beauty products; turmeric is excellent for your skin as well. Its regular use on your face brings the sparkling glow. Turmeric makes a great anti acne cleanser and face wash. When combined with lemon it is also reduces the growth of unwanted facial hair.
It is also used as an Ayurvedic medicine to treat inflammation both internally and externally.
It contains minerals such as magnesium, Phosphorus and potassium to keep you strong and healthy.
With Hawos flour mill you not only unleash the power of grains but can also consume spices at their best. Using fresh spice and grinding them when required helps to keep your spices super fresh. Using fresh ground turmeric enhance the flavour, colour and taste of your curries. Self-grinding ensures that the potential health benefits are retained allowing the user to enjoy full rewards of improved digestion, boosted metabolism and plenty of other advantages.  Using ceramic corundum stones as grinding tools in these German flour mills results in cool grinding process which retains the full nutrients of ingredient.