Today let's discover the chef in us and unleash our culinary skill. Here we are sharing the recipe of a famous Maharashtrian breakfast, Ukkad. If you are bored of your regular rava or semolina upma, we have another delicious version of upma with rice flour and other added flavors. So let's find out how we make this scrumptious breakfast.
Ingredients for Ukkad
Rice flour                                              1 cup
Butter milk                                           3 cups
Oil/ghee                                                2 tbsp
Grated carrot                                       1/2 cup
Boiled peas and sweet corn            1/2 cup
Curry leaves                                         10 to 12
Coriander leaves
Cumin seed                                          1 tsp
Mustard seed                                      1 tsp
Asafoetida                                            a generous pinch
Turmeric powder                              1 tsp
Grated ginger                                     1.5 inch
Crushed garlic cloves                      5 nos.
Green chilies                                      3 nos.
Salt                                                        as per taste
*You can add any vegetables of your choice
Method:
Heat oil or ghee in a pan
Add mustard and cumin seeds in it and let them splutter
Add asafoetida
Add ginger, garlic and green chilly
Add curry leaves and mix them well till 2 minutes
Now add vegetables and saute them
Now add butter milk and stir continuously otherwise it may curdle
After one boil add salt to avoid curdling
Finally add rice flour
Stir regularly to avoid lumps till it gets thick.
Add red chili powder if you wish.
Here our delicious ukkad is ready to be served in your plate.
This ukkad is made with freshly milled rice flour with 'Green Future Domestic flour mill' which enhances its flavor. Freshly ground rice flour secures all its nutrients. So do try this recipe and leave a comment if you really liked it.
To get the most of your grains/spices/pulses use them adulteration free. Try one of 11 models of Green future domestic atta chakkies. These mills are smartly designed to save the nutritional value of the ingredient to be milled. So hurry up!  Grab yours ASAP.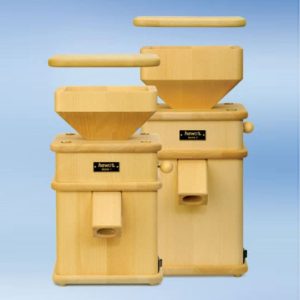 Eat healthy, stay healthy!!